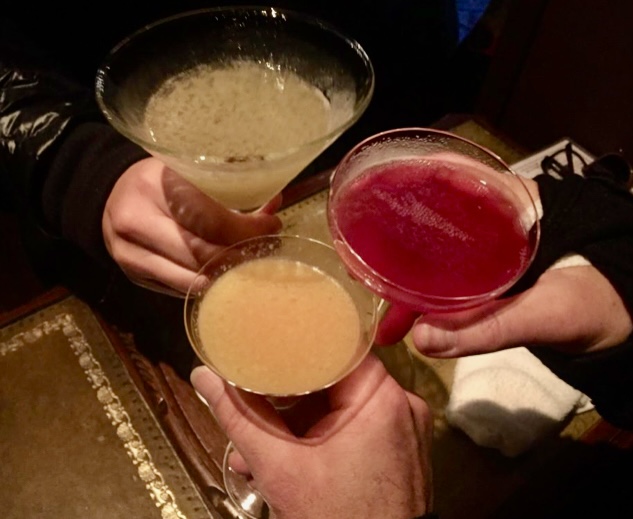 On a dark night in Tokyo, we were on a mission to find Ben Fiddich. The address was right but there was no sign. Had it closed since our friend had been there?  We entered a sketchy elevator to the 9th floor, climbed a rickety outdoor staircase and walked through the wooden door to the place. The vibe was dark, moody and mysterious without being pretentious or intimidating. Drinks were an elixir of liquor, plants and herbs conjured from the ground up by Hiroyasu Kayama. 
It didn't dawn on me until I began writing this week's article that Ben Fiddich is a speakeasy.
Historically a speakeasy was an illicit establishment prominent during the Prohibition in the United States (1920-1933) when the sale of alcohol was illegal. These were hidden places, found only by word of mouth, often with a password required to enter. Police either shut it down, accepted bribes or turned a blind eye to these places. To keep the place a secret, patrons were encouraged to speak softly, hence the name.
Besides serving booze, the speakeasy provided a place to meet people. Today the resurgence of these places may be a reflex reaction to the absence of the ability to mingle for years. 
Humans need to interact. "Being social is our brain's lifelong passion," according to neuroscientist Matthew Lieberman. Socializing can increase longevity, elevate mood and improve cognition. 
Speakeasies represent the opposite of social media. They aren't looking for millions of likes. They are purposely not trying to appeal to everyone. It is a niche business and planning to stay that way. 
As a person who hasn't eaten indoors at a restaurant in years, I am intrigued by these quiet, gentler places.  It sounds more appealing than a loud classic bar. And way sexier too.
Have I talked enough about the moon in this newsletter? I think not! Tonight is the biggest 'supermoon' of the year, known as the Buck Moon. Try to catch it early when it is low and burnt orange in hue. There is a reason cell phone pictures do not do it justice – to force us to go and see it with our own eyes.
New subscribers are gold, thank you for joining us!
Speak easy this week.
Dr. Annie K. 💜