Somebody Turn on the Game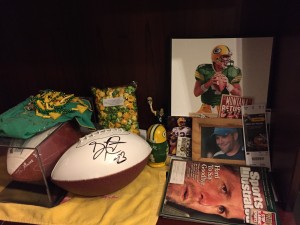 Not sure how many of you know about my love for football. I know, sounds incongruous to my nature. It is a passion of mine and passions are healthy. I won't talk about the medical dangers; focusing on the Love not the Medicine. Right now I just need to vent.
I am a latecomer to the sport, my interest started in 1992. My dear friend in Israel, Vivian, casually said, "I think you would really like football. There's this guy, Brett Favre…"
She met me a few weeks later in Tel Aviv at 3am, and we watched the Broncos beat the Packers in the Superbowl.  She patiently explained what a first down is, before there were yellow lines to mark it. As I started watching, my memory was jogged and I recalled my mom screaming at the TV, following her beloved Packers and Wisconsin Badgers. It was totally unrelatable. My dad had no interest. Her last words, the day she died were "somebody turn on the game" and then she was gone.
So, basically I have become quite the football fanatic. I bet every week, with my Vivian, on 7 games against the spread. We are the only women in a large football pool and we are quite good.  No judging! Our winnings one year paid for my son's Bar Mitzvah.
Let's talk about yesterday's game when the Packers lost to the Arizona Cardinals in the divisional playoffs.  We were 7 point underdogs and had lost badly to Arizona weeks ago. We played with heart. Rodgers' Hail Mary with no time left was epic. The excitement in the frigid air was palpable. You couldn't help but think: here we are in 1 degree, wind chills of -20 and they are in Arizona, couldn't we at least have another game to look forward to as we face the winter??? But instead, two plays later in overtime, it was over. How do you leave Larry Fitzgerald open? Such short elation time! Such a tease.
We would have gone all the way if we had won that game. Now our season is over. And winter just got a few degrees colder.