I'm in bed with a nagging cold-not-Covid. My body is exhausted but my mind is full. Grab a tea, hot water with lemon, or a hot toddy and let's do this.
A novel could be written about last weekend in New York. Like most recent visits there, it started with a family wedding. It was big, bold and bursting at the seams with love. It bore little resemblance to my guide on how to throw a perfect wedding, which just goes to show: there is no formula. It's all about the love.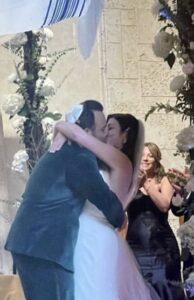 Like most visits to New York, ours ended with a trip to my partner's hometown, Middletown, a small city in the Hudson Valley. This time, a monumental meeting took place when our two year old grandson met his great-grandmother Lila, for the first time. A 95 year age difference.
Lila could no longer speak but there was eye contact and the hint of a smile. My daughter and Lila had not seen each other in years yet their personalities are remarkably similar. We always say "She's Lila," especially when she is particularly kind and grounded and isn't freaking out like the rest of the family.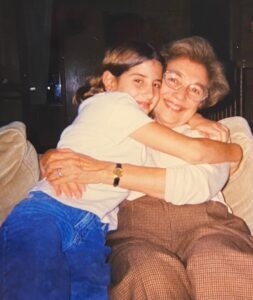 Hospice and palliative care workers often see cases in which people who are nearing life's end seem to will themselves to hold on until a certain point, after which time they let go. Some hold on to see a loved one, others wait until they are left alone. While it appears a person has little control over when they die, they may actually have some.
"What people will do for one another in the name of love is extraordinary," says Charles von Gunten, a pioneer in palliative care.
We left Middletown and drove back to the city. Like after every visit, we thought this may be the last. The next day, she died. She passed away like she would have wanted, peacefully in her own home without suffering. She led a long remarkable life and this was her time.
We will never know for sure if she waited to see her granddaughter and great-grandson but the timing makes it likely. After seeing their faces, her lineage, she could let go.
Two bookends of the trip: starting with a young sapling at the start of a journey and ending in a strong, rooted, leafy tree reminds us all of the circle of life.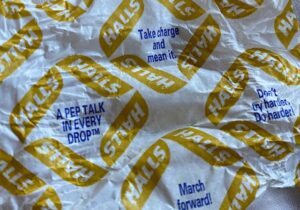 Each Halls honey cough drop is encased in a wrapper printed with words of encouragement. Does anyone ever read them? Do they help? Clever advertising or just a gimmick?