Welcome to Hotel Quarantine
Last thing I remember, I was
Running for the door
I had to find the passage back
To the place I was before
"Relax, " said the night man,
"We are programmed to receive.
You can check-out any time you like,
But you can never leave."
                                                                                  Hotel California , the Eagles
Hotel Quarantine (HQ).
My original plan was to leave the United States in March 2020 to be in Australia for the birth of my first grandchild. The pandemic hit and Australia closed its borders days before my flight. The borders remain closed. Because parents are not considered immediate family, I had to request a special exemption in order to enter the country.
After 14 months of heartache, disappointment and isolation, culminating with the devastating loss of my father, I was finally granted permission to enter Australia.
I was prepared. Packing for quarantine felt like packing for summer camp; Swiss Army knife, travel kettle (because you never know what prior guests boiled in there), espresso maker, cutlery, Australian electric plugs, laundry soap, and a few unmentionables. I followed the advice of the Australians in Quarantine Facebook group.
There were 30 people total on my flight from Los Angeles to Sydney, the maximum allowed according to Australian government rules.  The last two sections of the plane were completely dark. Nine people sat in Economy.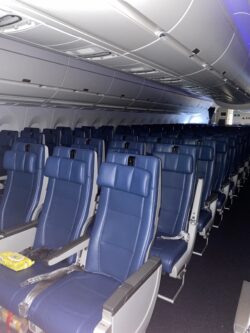 After the 15+ hour flight and dizzying hodgepodge of health checks, we were loaded onto buses. Everyone who enters Australia from overseas is required to spend two weeks in HQ, even if they are vaccinated. Hotel placements are determined prior to entry into the country. We were not told where we were going.
14 days in a room with myself. I was not allowed to leave the room. I was not given a key. Guards stood outside the door around the clock.
I'm kind of a foodie and a bit of a princess. I wasn't quite sure how I was going to handle this. All I asked for when I checked in was a room with windows that open. I knew from my Facebook group that fresh air was not a given. After the National Guard escorted me to my room, reminded me never to leave the room, closed the door and disappeared, I looked around. Not only did I have a window, I had a suite with a balcony.
Now let me start by saying this was not a suite at the Four Seasons. Linens and towels were not changed, the decor was 1960s Motel 6 and it just didn't feel clean. BUT it had a balcony and windows that opened and that is priceless. There was a small kitchenette and a jacuzzi.
A jacuzzi. I avoided it the first few days thinking it may be nasty like in some hotels or worse, I could fall in there and no one could come rescue me. It turns out that that jacuzzi rescued me. It was obviously designed by a woman, with perfectly placed jets. Being immersed in water reminded me that there is nothing like water to make the world melt away.
What do you do all day? Everyone asked me that. I woke up early and days were super long. I tried to develop a routine. I rented a treadmill and used it sporadically. I did yoga on a hotel towel trying to keep my entire body tucked on the towel without touching the sketchy hotel carpeting. I was fortunately able to work remotely. I couldn't distract myself with books or Netflix. I welcomed the nights knowing hours would pass and I'd wake up to one less day. Meals become an event in HQ, waiting for that knock on the door.
I opened the door three times a day for a brief second to retrieve meals which were left in a paper bag on the floor. I ordered vegetarian meals but rarely received a vegetable. Mostly it was a nondescript starch covered in nasty yellow sauce.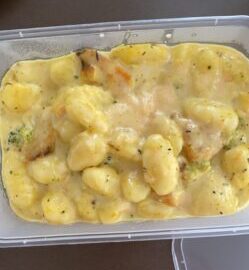 Stapled to the bag was a piece of paper with a crossword puzzle, sudoku or a bingo card. The hotel was trying – they aren't used to guests who just want to get the hell out.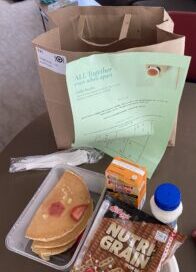 Bingo was a highlight, yes Bingo. It was on Zoom so you were able to catch a glimpse of fellow quarantiners. I didn't dare show too much background so no one could see my palatial quarters.
There was a fire alarm at 3am one night. It was a false alarm but either way I was NOT stepping foot out of that room only to risk starting the 14 days over!
What I wasn't prepared for was the emotional roller-coaster. I counted the days. I got excited when I was down to single digits. A state-appointed therapist called every day. "Considering the circumstances, are you feeling the best you possibly could?" I always said yes. I was lying. I needed to give myself a pep talk every day repeating "You got this!" The jet lag alone made me disoriented and fuzzy. Days 6 and 12 were particularly dark days where I felt like I was suffocated. I was trapped and disconnected from the world. I began to question my life decisions. Why give children wings only to see them fly away? I was suddenly insecure professionally – out of sight, out of mind? Would I be replaced? I felt the pressure to update close family and friends but I couldn't. I wasn't myself.
What kept me going was keeping my mind on who was waiting for me on the other side…
I have received very little sympathy from my hotel quarantine because of the room. But a golden cage is still a cage! I am the first to admit it could have been worse. Much worse. Still, paying the $3,000 invoice for this government-mandated rule will be painful.
On day 13,  I was given the orange band from the police indicating that I could be released the next day.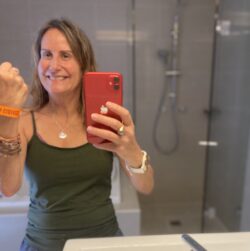 I stepped out of the Novotel a free woman. I rejoined the world. I nearly got hit looking the wrong way when crossing the street to catch an Uber to the airport.
I flew out of Sydney and landed in Brisbane an hour later. Waiting on the other side was the prize – meeting sweet baby Kai. No more phone video chat attempts to capture his spirit. We are together. My daughter and I laugh until we cry, jokes no one else could possibly understand. My heart is full, my cup runneth over.